We needed to get some ghost shrimp for a our seahorse and the rule is I can't go out on the boat with out fishing. Since the low tide (-0.1L) was in the middle of the day, we really could not get back in to Centipede bay to fish for redfish. So we thought we may try to catch a snook or two in the Hernando Beach channel.
We picked up about 30 nice sized whitebait around marker 2A in the Bayport channel. Then we hit the Bayport Tri-pod for some live chum. The whitebait was very thick, one cast and I had more then I could use.
As we headed to the Hernando Beach Channel, we noticed a big crane on a barge at the end of the channel. My first thought was maybe we should head north and try around Pine Island. But, curiosity got the best of me and we headed towards the crane.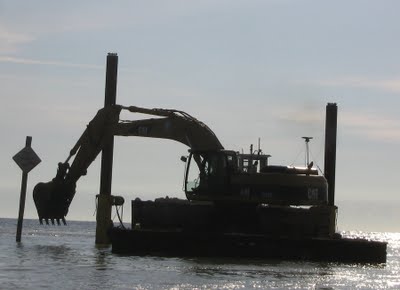 We approach at lunch time and asked a few question. The most important question was, when will the pumping will begin. I was told in about two weeks, they will start pumping the sand out of the Hernando Beach Channel. I'm certain this will drive the fish away from channel. After all, if someone came to your house and was going to vacuum for 8 hours a day, five days a week, I think I would leave too.
After a brief conversation we headed to the first cut and caught 4 trout (18-24 in), several jacks and a couple of short mangrove snappers. So it appears these fish really did not mind the crane ripping up the bottom 200 yards away.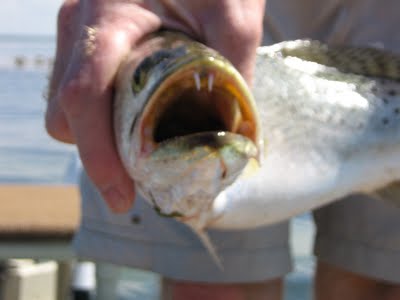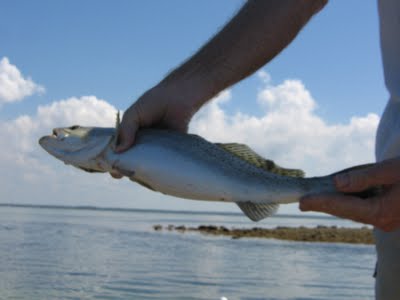 We hit a few other cuts and caught more jacks, but this time we did not catch any blue fish. Perhaps they have continued their migration and left the area. We then hit a couple of grassy shallow areas to get some ghost shrimp and headed home.
Good Luck
Zippyjr
Tide : Incoming -0.01 12:07
Water Clarity : Clear
Moon Phase: 74% full
Temp: 92 F
Water Temp : 85 F
Wind: 10 mph W
Bait: Whitebait
Results: 4 Trout, jacks and 1 snapper.