We had a few hours to fish in Centipede Bay. After the last couple of very disappointing trips, I wanted to focus on finding the redfish.
The whitebait has not really been around. I've checked all the usual places, marker 48 on the Hernando Beach channel, the Bayport Tri-pod, around the turn marker and between the to poles just outside of the channel. Not a single school.
Fortunately the mud minnows have been around the island and some very big one at that. So we picked up a dozen big mud minnows and started looking. We ended up finding one fish on the north side of the bay. And luckily it was hungry and 26 inches. We fished the north side for another hour and did not see any redfish.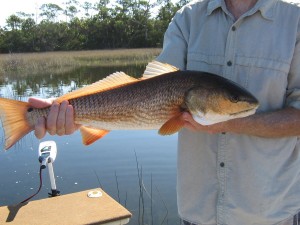 The tide was pretty high so we started looking in the creeks on the south side. We went through just about every nook and cranny. This type of fishing is very time consuming but most reliable when the redfish are scarce. I did not spook any fish until the last 100 feet. There where two fish about 20 feet apart in along the edge of the bay in the back of the bay. At low tide I have run across 20-30 redfish in this area, but really have not seen any when the tide was high.
This leads me to believe that the redfish or the bait fish have changed and are now in different location. After many many reports of redfish being scarce, it's time to go back to the basics. The way I found all the locations I fish is with shrimp. I came up with an idea to cross lure fishing with live shrimp. Instead of casting lures to the points, creeks and edges I use a big jumbo shrimp. Let it sink then reel it in and repeat. If you lose a shrimp to a bait thief then you are leaving the shrimp in the water too long. Typically are redfish will hit the shrimp as it sinks or just as it hits the bottom. Over time I noticed that the redfish tend to be in the same sports where I had caught them before. Not to mention if you have a casting platform you can watch the fish hit the shrimp. That's almost as good as catching them on top water lures.
Good Luck
Zippyjr